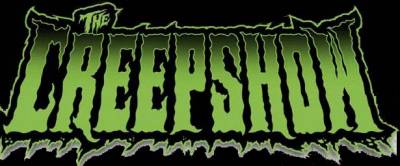 Groupe Canadien découvert par hasard on surfant on ze oueb.
Avec un nom pareil je me suis
senti obligé de vous proposer quelquechose d'eux ici !!!
À la base, le groupe se compose de musiciens bien connus de la scène locale : Jen « Hellcat » Blackwood au chant et à la guitare, Sean Mc Nab AKA Sickboy -alors chanteur/guitariste des groupes locaux Outspan et Jersey- à la contrebasse, Matthew "Pomade" Gee à la batterie et Kristian Rowles AKA The Reverend Mc Ginty -alors tromboniste pour le groupe de ska 905 ainsi que pour Outspan aux côtés de son ami Sickboy- à l'orgue, chose plutôt rare dans ce type de formation.
En 2005, The Creepshow enregistre deux titres pour la compilation Zombie Night In Canada Vol. 2 pour Stumble Records, accompagnés par la crème de la scène rockab'/psycho/garage locale. Ils publient en même temps une démo qui tombe entre les mains d'Adam Sewell du label Stereo Dynamite qui décide aussitôt de les signer. Leur premier album, Sell Your Soul, produit par Steve Rizun (Keepin' 6, The Flatliners, Illscarlett…), sera édité en mai 2006. Au même moment, le label signe un deal de distribution avec le géant EMI et les disques de Stereo Dynamite arrivent dans les bacs de tous les bons disquaires, ce qui permet au groupe de tourner un peu partout dans le monde.
En 2007, Jen « Hellcat », alors enceinte de Joel "Hooch" Parkins (chanteur/guitariste des Matadors), demande à sa petite sœur, Sarah « Sin », de la remplacer provisoirement. Finalement, le provisoire dure et Sarah « Sin » devient la chanteuse officielle du groupe.
En 2008, The Creepshow signe sur le label canadien Stomp Records pour son deuxième effort, Run For Your Life, et avec People Like You Records pour la sortie Européenne. L'album est ré-édité aux États-Unis chez Hellcat Records en octobre 2009.
Line-up actuel
Sickboy:
Contrebasse
The Reverend McGinty
: Claviers
Matt Pomade
: Batterie
Kenda Legaspi
: Chant (Nouvelle chanteuse)
Membres passés
Sarah Sin
: Chant, Guitare
Jen "Hellcat" Blackwood
: Chant, Guitare

Albums Sell Your Soul (CD - 2006)
Run For Your Life (CD - 2008)
They All Fall Down (CD - 2010)
un lien trouvé on ze oueb :
(Sell Your Soul (CD - 2006))