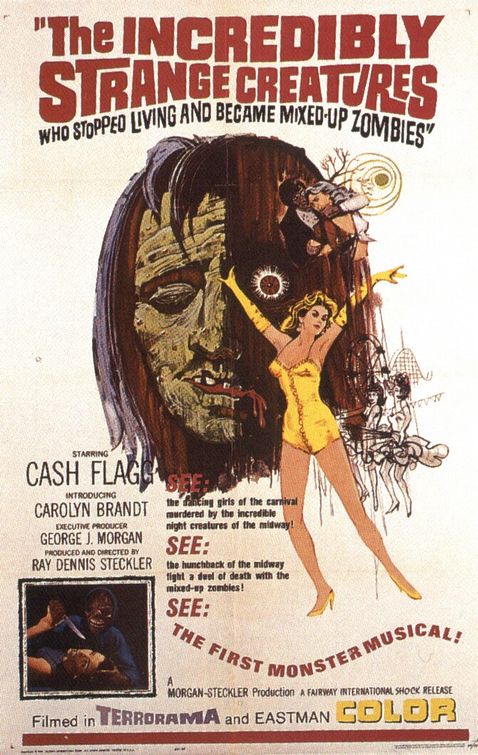 Titre original
: The Incredibly Strange Creatures Who Stopped Living and Became Mixed-up Zombies!!?
Réalisé par
: Ray Dennis Steckler
USA - 1964
Avec
: Cash Flagg (alias Ray Dennis Steckler), Carolyn Brandt, Brett O'Hara, Atlas King, Sharon Walsh, Erina Enyo, Don Russel...
Jerry, un jeune rocker turbulent, emmène sa petite copine
Angie et son pote Harold à la fête foraine. Après avoir fait
le tour des attractions, et avoir vécu de nombreuses émotions,
Angie insiste auprès des garçons pour se faire lire la bonne aventure.
Les garçons accompagnent la jeune fille, et la voyante va annoncer à
Jerry sa mort prochaine. Ne croyant pas ces balivernes, les trois
compères sortent de la tente de la voyante, et Jerry, alors que ses
amis veulent s'en aller, est subjugué par une belle danseuse et décide
d'aller voir son spectacle de strip tease. Ensuite, il se fait hypnotiser
par elle, et devient une "incroyable créature étrange qui a arrêté
de vivre et qui est devenue une sorte de zombie"...
Un lien trouvé pour vous on ze oueb :
Le petit plus du Dr Zomblard
: Avec un titre pareil vous pensez bien qu'il fallait que je vous le trouve c'lui là. Bon juste pas de sous-titres connus et encore moins en français mais au dela de son titre à rallonge Les créatures incroyablement étranges qui ont cessé de vivre et sont devenus des zombis mélangés tarde à nous les montrer ces zomblards car avant on se tape la fête foraine, des numéros de danse exotique, y disaient toujours danses exotiques à cette époque...., bref ça comble grave... Une curiosité quand même à (re)découvrir. Pour plus d'infos, voir ici :
ICI