Titre original
: The Fist Of Jesus
Réalisé par
: Adrián Cardona, David Muñoz
Espagne - 2012
Avec
: Marc Velasco, Noé Blancafort, Salvador Llós
Quand Jacob dit à Jésus que son fils, Lazarus est mort, Jésus se rend
chez lui pour le ressusciter. Seulement, c'est la première fois que
Jésus essaye de ramener quelqu'un d'entre les morts.
Les premières fois ne sont jamais parfaites...
Un lien trouvé pour vous on ze oueb :
Traduction : Anti - Encodage : TheQemist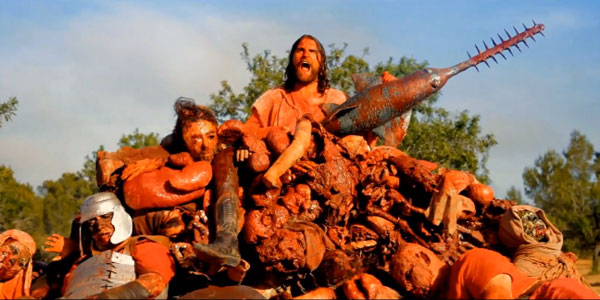 Le petit plus du Dr Zomblard
: Jésus est toujours prêt à tendre la main au prochain … mais certains risquent de goûter à la fureur de son poing ... sur la gueule. Attention court mais gore, ultra gore même, car les 2 compères, après l'excellent brutal relax récidivent avec ce mix entre La Vie de Brian et Shaun of the dead. Le site officiel :
http://www.fistofjesus.com/
Vivement le film !!!!!!!!!!!!!!!!!!!