Pour ceux qui ne font rien ce soir, le Dr Zomblard vous vous propose son
REVEILLON OF THE DEAD !!!!!!

Les 6 films de Papy George !!!!


Chaque année, Barbara et Johnny vont fleurir la tombe de leur père. La route est longue, les environs du cimetière déserts. Peu enclin à prier, Johnny se souvient du temps où il était enfant et où il s'amusait à effrayer sa soeur en répétant d'une voix grave : "Ils arrivent pour te chercher, Barbara."La nuit tombe. Soudain, un homme étrange apparaît. Il s'approche de Barbara puis attaque
Johnny, qui Tombe et est laissé pour mort. Terrorisée, Barbara s'enfuit et se réfugie dans une maison de campagne. Elle y trouve Ben, ainsi que d'autres fugitifs. La radio leur apprend alors la terrible nouvelle : des morts s'attaquent aux vivants.
DVDRiP - Langue : Anglais - Sous-titres : Français - 711 Mo
C'est la panique dans tout le pays. Sur un plateau de télévision, un représentant du gouvernement fait le point sur la lutte contre les morts-vivants, qui ont envahi la moindre petite ville. Quatre survivants parviennent néanmoins à s'enfuir en hélicoptère, et finissent par atterrir près d'un centre commercial, où ils décident de s'installer.La vie quotidienne s'organise, entrecoupée par des raids contre les morts-vivants…
DVDRiP - Langue : Français - 692 Mo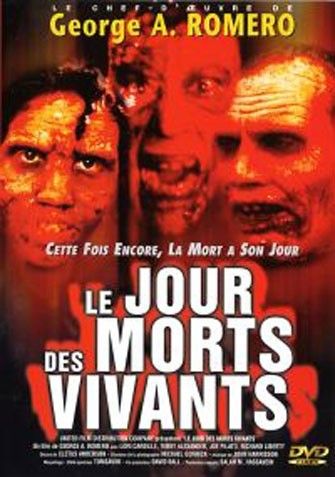 Les morts vivants se sont emparés du monde. La situation est désespérée
pour un groupe de scientifiques et de militaires réfugiés dans un silo
à missiles. Les vivres sont presque épuisés tout comme les munitions et
les médicaments. Il n'y a qu'un seul espoir pour les humains : fuir jusqu'
à un endroit inaccessible et trouver le moyen de contrôler les morts vivants
ou de les renvoyer dans leurs tombes une bonne fois pour toute.
DVDRiP - Langue : Français - 803 Mo
Les morts-vivants ont pris entièrement possession de ce qui était autrefois
le monde civilisé. Ils errent à la recherche des vivants, pour les appeler
à rejoindre leur monde. Les derniers survivants, cloîtrés dans une ville
bunker, s'organisent pour tenter de contrer une attaque de zombies, emmené
par le charismatique Big Daddy...
DVDRiP - Langue : Français - 807 Mo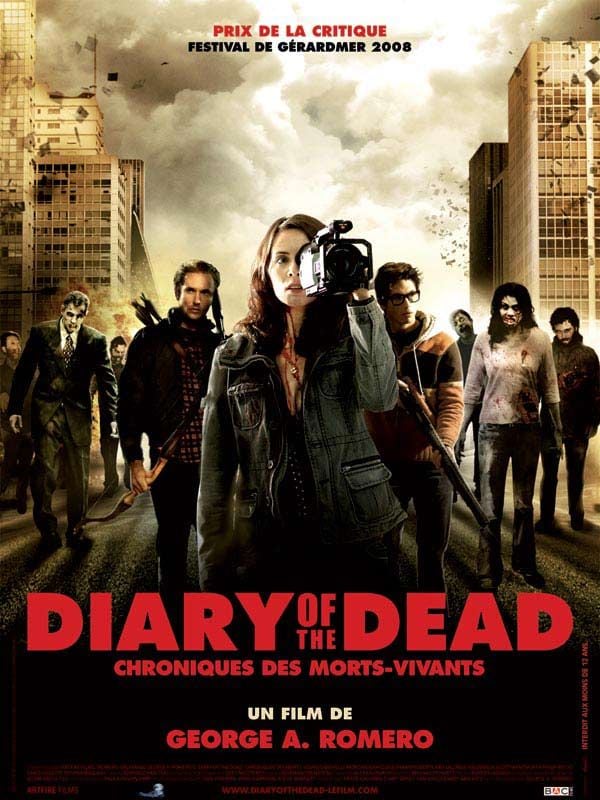 Des étudiants en cinéma tournent, dans une forêt, un film d'horreur à
petit budget, lorsque la nouvelle tombe au journal télévisé : partout
dans le pays, on signale des morts revenant à la vie. Témoins de massacres, de
destructions et du chaos ambiant, ils choisissent alors de braquer leurs caméras
sur les zombies et les horreurs bien réelles auxquels ils sont confrontés afin
de laisser un témoignage de cette nuit où tout a changer...
Sur une île au large de l'Amérique du Nord, les locaux combattent
une épidémie de zombies tout en espérant trouver un remède pour
ramener les membres de leur famille à l'humanité
Liens trouvés sur DP, auteur Kane81,
si MP demandé : Up by Bibi