C'est en rangeant mes vinyls que je suis retombé sur cette "discographie du rock français 1977-1997".
Editée par l'association Euthanasie la bien nommée, elle se propose de rassembler toutes les sorties
vinyls
sur cette période de 20 ans.
http://euthanasie.records.free.fr/discographie/P01index.htm
Et forcément, en le feuilletant de nouveau, le mot Zombi est apparu comme par miracle dans mon champ de vision.
Je vous propose donc une petite ballade musicale dans ces années folles, avec de la musique et/ou des noms de groupes qui nous ramènent à nos créatures favorites.
Et pour plus de facilités pour moi, ce sera un classement alphabétique et non chronologique.
Toutes les infos et discographies des groupes sont tirées du lien euthanasie ci dessus, pour avoir plus d'infos reportez vous y.
Enjoyez.
On commence avec les ASTRO ZOMBIES, groupe psycho de Dijon, qui sortent un EP en 1997.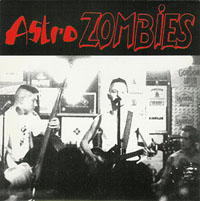 "R.I.P."
EP (Sfax records - SFAXEP006, 1000 exemplaires) 1997
R.I.P. / Vampire

Cape fear / The mega wave
Puis suivront des apparitions sur des compils et 2 LP:
Le reste des infos:
http://euthanasie.records.free.fr/discographie/P01index.htm
On continue avec les ATOMIC SPUDS, groupe psycho-garage lyonnais.
Une K7 démo en 1994, un CD en 95, puis après quelques apparitions sur des compils, un LP et 2 EP, avec des titres aussi évocateurs que:
The graveyard surfer ou
Return of open minded living deads.
Une tite vidéo, qui parle pas de zombie
Les BEACH BITCHES viennent de Perpignan et nous
offrent au milieu des 90's, un garage surf (oui, on fait du surf à
Perpignan, un peu comme à Nice).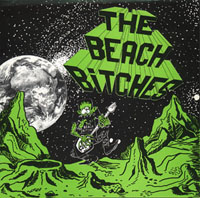 Premier 45, et en face B:
Suivront 3 LP et diverses participations à des compilations psycho-garage-surf.
Notamment ce Monkey Fuck avec le titre "braindead attack".
Plus anecdotique ici, les BONAPARTE'S sont plus axés new wave, mais ils proposent en 1986 ce voodoo revenge sur leur 3e album "...to the isle of dogs"
Mais si les zombis ne sont pas les enfants du vaudou, hein alors...
Allez, on a fini avec les deux premières lettres de l'alphabet, on se retrouve bientôt pour la suite.
VINYL POWAAAAAAAAAA