Titre original :
Actiongirls: Soldiers of the Dead - Part 1
Réalisé par :
Scotty Jx
USA- 2007
Avec
: Emily Kova, Susana Spears, Adrianna Zarcova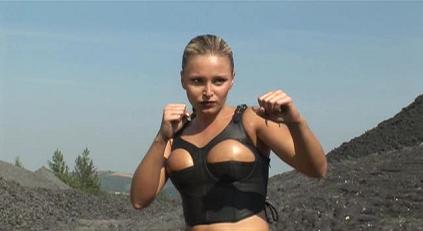 Dans un monde post apocalyptique, les gangs contrôlent
tout et les femmes servent de monnaie d'échange et d'esclaves.
Suzanna, gladiatrice, s'échappe mais est bientôt poursuivie par
une armée de zombies.



Les filles sont bien gaulées et nues et à part ça? Bin rien, film de merde... Dans un monde post-apo où les filles sont esclaves sexuelles, il est évident que celles ci se baladent tout le temps en culotte et soutif sexy.
Dans un monde post-apo, il est évident que tu trouves tout plein de culottes sexy justement chez le Etam lingerie du coin.
Dans un monde post-apo où tu te bats pour un territoire, il est évident que tu attaques un batiment vide pour casser la gueule à des vestiaires métalliques.
Dans un monde post-apo, le zombi qui attaque une fille coincée dans sa voiture commencera par casser les 2 phares.
Dans un monde post-apo, les voiturent marchent à l'aller, mais au retour pour fuir, bin elles démarrent plus...normal en citroen Picasso...
Actions girls et Scotty Jx est un site de clip orienté "girls and gun" aux USA , ce film est un montage de petits clips vendus en download. Les filles toutes d'origine slave (Glamourbodies agency , république tchèque) tournent aussi dans des pornos.
Tourné en Tchéquie, avec des acteurs personnes tchèques et un budget tchèque, mais comme disait Pelé, vaut mieux que ce soit tourné en Tcéquie qu'à Rio.