Au milieu des années 80, les Editions FLEUVE NOIR lançaient la désormais célèbre Collection GORE. Pendant cinq ans, d'avril 1985 à juillet 1990, ce sont 118 romans qui paraîtront. Un logo génialement dessiné, des couvertures pleines de sang, de tripes et de femmes légèrement vêtues. 118 titres qui sont aujourd'hui l'objet d'un véritable culte auprès de ceux qui, dans les années 80, étaient encore adolescents et hantaient les vidéoclubs fleurissant un peu partout, à la recherche du dernier film gore disponible... Témoignage incontournable d'une décennie aujourd'hui bénie.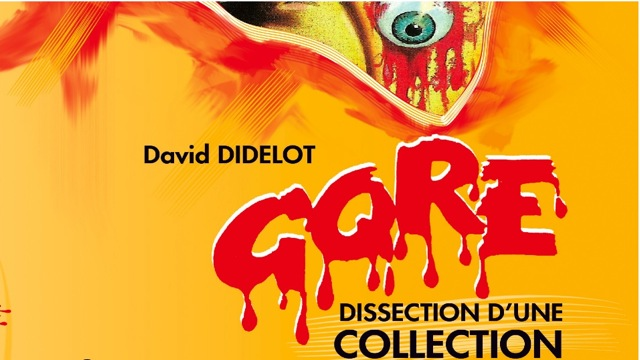 David Didelot, vous connaissez? Non?
Et si je vous dis "Vidéotopsie? Votre oeil s'allume?
Editeur du fanzine Vidéotopsie (consacré au cinéma bis et d'horreur), David DIDELOT se propose aujourd'hui de revenir sur cette aventure éditoriale hors du commun, dans son livre GORE - Dissection d'une Collection. Avec quelques amateurs et spécialistes du genre, il évoque la genèse de cette collection, dissèque tous les volumes la constituant et s'arrête sur tous les auteurs ayant contribué à la série (plus d'une soixantaine !). Collectant les entretiens qu'il a pu recueillir avec les principaux acteurs de GORE (écrivains, directeurs de la collection...), s'intéressant aux artistes qui ont dessiné les plus incroyables couvertures de toute la littérature populaire nationale, se penchant sur les continuateurs de la collection, et évoquant les relations ténues qu'entretient la série avec le cinéma d'horreur, l'auteur signe ici la Bible de la Collection GORE, l'indispensable viatique de l'amateur, le guide complet du territoire GORE.
Comme moi enfant des années soixante dix, David est donc biberonné aux VHS d'horreur et en pleine adolescence quand se crée cette désormais collection GORE.
Un lien trouvé pour vous on ze oueb :
Pas de lien, un livre ça s'achète, se touche, se picore
ou se dévore, se prête, surtout quand c'est fait par un passionné.
Pourquoi en parler ici?
Tout simplement, parce qu'il est évidemment question de zombies dans nombres de ces 118 romans. Et que le premier opus de cette sanglante collection, c'est la novélisation (adaptation du scénario en roman) de "La nuit des morts-vivants" par John Russo le coscénariste avec Romero.
On y retrouve aussi du même Russo "Le retour des morts-vivants" de 1985. Des zombies, il y en a dans "Morte Chair" de Gilles Santini, "Andernos Trap" de François Darnaudet, "Camping Sauvage" de Gilles Bergal et tant d'autres.
On retrouve aussi de "grands noms" et grands classiques dans cette collection. Citons les romans "2000 maniacs" et "blood feast" de Lewis et les auteurs Andrevon, Pelot ou le fabuleux NG Mount (Norbert Moutier).
SOMMAIRE
•Préface cinématographique de Nécrorian

•Sommaire

•Army of the Dead - Présentation des "Gore maniacs" ayant contribué à ce livre : l'armée des morts... bien vivants !

•Introduction

•Après-guerre, avant Gore - Les ancêtres populaires du putassier et du crapoteux en littérature. Non, la Collection Gore n'est pas née ex nihilo…

•Il était une fois… la Collection Gore - L'histoire mouvementée, chaotique et édifiante d'une collection culte… Plongée au mitan des années 80, avec le témoignage de Juliette Raabe.

•Daniel Riche : entretien et carrière - La parole au défunt fondateur de la Collection Gore…Interview presque inédite du bonhomme (parue dans le fanzine Vidéotopsie, n°13, juillet 2013). En quelques dates et des dizaines de titres, le CV richissime de Daniel Riche.

•La Collection Gore et la presse : Grand Prix du Roman Gore et revue de presse - La Collection Gore à son firmament ! C'était l'époque d'Avoriaz… Petit florilège de coupures de presse : l'accueil médiatique de la Collection Gore au milieu des années 80.

•Auteurs et volumes de la Collection Gore - D' « Altman » à « Wolfitt», tous les auteurs disséqués, tous les romans autopsiés… Entretiens avec Jean-Pierre Andrevon, Axelman, Jacques Barbéri, Gilles Bergal, François Darnaudet, Joël Houssin, Patrice Lamare, N.-G. Mount, Richard D. Nolane, François Sarkel, Brain Splash, Christian Vilà et... Nécrorian !

•Dans l'Enfer des pseudos… - Récapitulons : qui, en réalité, est qui ? De l'art de la dissimulation…

•Dugévoy (et les autres) : ça crève les yeux ! - ... Ou comment un artiste roumain redéfinit les règles du meilleur mauvais goût dans ses couvertures. Mythique !

•La Collection Gore sur pellicule - La Collection Gore et le cinéma d'horreur : entre romans originaux et novélisations…

•A Gore perdus... ou retrouvés ! - Histoire de ces manuscrits destinés à la Collection Gore, définitivement (?) perdus, ou qui trouvèrent ailleurs éditeurs à leur pied

•… Et pour digérer : la Collection Maniac - Retour sur l'enfant légitime de la Collection Gore : Maniac…

•Les enfants de Gore - Et depuis ? Qui a repris le flambeau… et un peu de tripes crues ?

•Index chronologique - Histoire de se repérer dans le temps…

•Collector... Gore ! - Galerie photos de petites choses estampillées Collection Gore : notre musée personnel de Curiosa... Uniquement pour les fans purs et durs !
Près de 400 pages de nostalgie heureuse pour les quarantenaires que nous sommes, 400 pages pour que la jeune génération quitte ses écrans et se mette à la lecture. Un travail d'amateur éclairé, un ouvrage de référence indispensable avant d'aller hanter bouquinerie et vide-greniers.
S'il est difficile à trouver ou à commander en librairie, un petit mail à
videotopsie@gmail.com,
David répond en général rapidement.
Le site de vidéotopsie:
http://videotopsie.blogspot.fr/
Lecture à compléter avec le site de la pétulante
Pétula Von Chase
:
http://petulavc.free.fr/